Upcoming Books and New Releases
Jacquelyn Frank's next book in the Nightwalkers series, Forsaken, will be debuting on January 7th and fans are chomping at the bit. Mercenary Leo Alvarez is dealing with his best friend now embodying an ancient pharaoh and he now needs to protect his friend from supernatural beings more dangerous than he could ever imagine. His unlikely ally is the Night Angel, a stunning creature who sets him aflame while also wielding power like he has never seen.
It's now less than 10 days until the anthology Turn Up the Heat is published, and readers who snatch up books by Lori Foster, Christie Ridgway, and Victoria Dahl have already pre-ordered (and you should, too). Alpha males, beautiful woman and a love worth winning are a common theme of each hot, contemporary novella and I for one cannot wait. Pre-order it and have a great New Year with this book on your doorstep or delivered to your e-reader.
This past week gaslight fans all breathed a sigh of happiness as Kristen Callihan released the fourth book in her successful Darkest London series with Shadowdance. Mary Chase is happy in her work for the Society for the Suppression of Supernaturals and when tasked with bringing down the vicious murderer labeled the Bishop of Charing Cross, she is determined to be successful. Her annoying rival Jack Talent also appears to be on the case and while it would make sense to work together, this lone wolf never does. Mary doesn't realize that Jack would like to work closer…much closer…with her but the temptation she offers combined with the danger has him worried that if their killer doesn't hurt her the ghosts from his past may.
Fun Stuff
'Tis the season for finding awesome gifts for readers, and a truly unique gift can be found at Spineless Classics which offers the entire text of a book in a single poster with a unique design which manages to evoke the story. From children's classics like the first Harry Potter book, James and the Giant Peach, among others, historical classics, nonfiction works like The Origin of the Species, to the New Testament, there is something for any kind of reader. At just under $70 these unframed posters are an investment but make a truly awesome gift.
I bet you have probably used the phrase "kick-ass" in reference to a strong woman (hopefully yourself!) but did you ever wonder when this phrase became part of our lexicon? The outstanding Romance Novels for Feminists blog has an outstanding analysis of when we started saying this (the late 1970s, a key time period for women) and has some great examples of which heroine it has been applied to in the post, "From Whence the Kick-Ass Heroine?"
Did you know Microsoft is working on a bra that will help read our body cues to alert us if we are going to begin eating emotionally? Prevention Magazine recently announced that the prototype, which measures heart rate, breathing rates, skin temperature and movement, still won't be able to account for the holidays as a factor (what, they can't add in a clock?) but should help people be more aware of their habits. So my immediate questions are 1) how to wash it and 2) what are men going to do?
Contests and Giveaways
From the Fresh Fiction blog, the author who actually invented the military romance, Lindsay McKenna, is the focus of a fantastic contest to win her entire Wyoming series, which appears to encompass both her Jackson Hole series as well as her Shadow Warriors series, in addition to others. Enter before Christmas to have a shot of getting most of this legend's oeuvre.
Another holiday motherload of books contest can be found at The Rock Stars of Romance website which is hosting a contest to win a $100 gift card and a TON of ebooks and paperbacks from terrific authors. Hurry over there to enter, however, as this contest ends tomorrow.
The romance industry's major publication, RT Book Reviews, is hosting a giveaway for all the books in the Baskerville Affair Trilogy, the series by Emma Jane Holloway which focuses on the niece of Sherlock Holmes and the steampunk world she inhabits as she attempts to live up to her family's reputation for solving mysteries. The contest ends 12/27/2013, so use the Rafflecopter interface and enter to win!
Under the Covers Book Blog is giving away a copy of Jaci Burton's Holiday Games, the wonderful holiday novella tied to her Play-by-Play series which stars the members of the incredibly talented Riley family. Enter by Christmas to see if you can win a copy of this terrific addition to the series.
Harlequin is celebrating the holidays by offering a unique bundle of historical romances (from all time periods and settings) as a giveaway and you become eligible to win by simply leaving a comment before December 29th. With authors like Nicola Cornick, Jeannie Lin, and Susan Wiggs, historical romance readers are bound to think that Harlequin headquarters is actually at the North Pole (well, they have to read something to keep warm, right?).
The blog Hesperia Loves Books is a having a wonderful giveaway for paranormal readers who love dragon shifters, offering the three current books in Jamie Rush's The Hidden series, but also ARCs for the next two books in the series, and a custom dog tag. Go over today and enter as the contest closes at midnight!
You'll have to move fast but fans of Jeaniene Frost's Night Huntress series have a chance to win an ARC of the final Cat & Bones novel, Up From the Grave, if they send an email to Frost no later than midnight on the 23rd (tomorrow!). Details are up on her website, so get those fingers moving to let this wonderful author know you are interested in a leg up on reading this long-awaited novel.
Tawny Weber is having a great giveaway for her holiday book, Naughty Christmas Nights, and all you have to do is go use the Rafflecopter entry form by Christmas Eve to be considered. About two rival lingerie companies and the man and woman who are fighting for their future, the heat between them begins to mean more than getting the account.
Great Deals
Available for free right now is a collection of nine short stories, each from a different author, and encompassing a variety of romance genres and heat levels. Gratis: Midwinter Tales just came out on December 19th and clearly has a holiday theme, so give yourself a totally free present and see if you can find a new author to enjoy.
Also currently free is the steamy short from Alexandra Ivy and Laura Wright, Bayou Noel, about a Louisiana woman who is tired of waiting for the man she's loved from afar to notice her. After five years, it's clearly not going to happen, but she couldn't possibly anticipate what a simple letter informing him that she's leaving would unleash. This story falls between the eighth and ninth books of this shapeshifter series and as always, it's as hot and steamy as a Louisiana swamp, so enjoy!
Elisabeth Naughton's first Eternal Guardians book, Marked, is currently available for free on Amazon, so snap it up. About a woman marked to die and the 200-year-old descendent of Hercules whose job it is to bring her in order to save his people, this paranormal romance has tortured alpha males and beautiful women who have the power to bring them back from the brink, all set in a political world with its own agenda.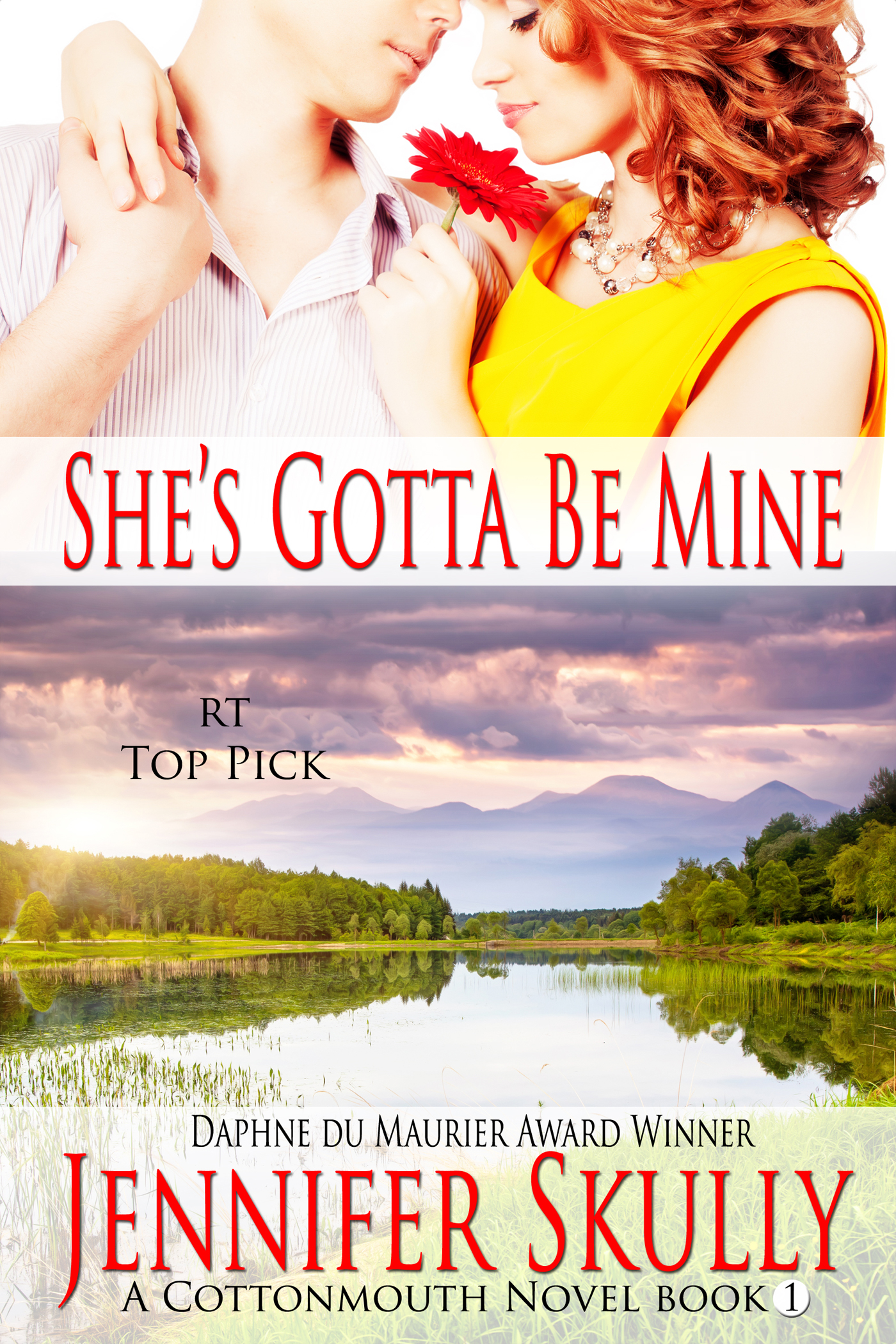 Jennifer Skully (aka Jasmine Haynes) has reissued her book, Sex and the Serial Killer under its new title She's Gotta Be Mine, and it's currently free! The first of her Cottonmouth series, fans of zany romance and eccentric characters will definitely want to take a look at this story which features a divorced woman who bounces back from her husband leaving her for his high school sweetheart by undergoing a massive makeover. Not content with simply changing her appearance, she also decides to take up with the town's sexy bad boy who is rumored to be a serial killer. Exactly. Go get it, now!
Courtney Milan's first novel of her The Brothers Sinister series (really a prequel), The Governess Affair, is also free right now on Amazon, and it's a book that's gotten kudos from historical romance readers around the world. When a hero who started off as the son of a coal miner and rose to be the right-hand man of a duke and feared throughout the country can't get rid of a governess, well, love is clearly in the air.
One of my favorite novellas of all time is on sale for only $.99 – Laura Kaye's Hearts in Darkness! About two people trapped in an elevator who never got a good look at one another but who are drawn together as they talk and um…do other things…it's truly characteristic of Kaye's hot, sweet writing style. Similarly, her fascinating stand-alone vampire tale, Forever Freed, is also only $.99, so check them both out so Laura Kaye can make your holiday a little brighter.
Suzanne Brockmann's novel, The Unsung Hero, the first book in her Troubleshooters series, is on sale for $.99, a great price for 416 pages of romantic suspense with a Navy SEAL hero. Lt. Tom Paoletti spots a terrorist when at home recovering from a head injury but the powers that be dismiss it as the product of his concussion. He assembles an eclectic team of his friends and experts, including Dr. Kelly Ashton, the girl-next-door who has grown into a compelling and beautiful woman. But all of them may not be enough to take down this bad guy and Tom begins to realize that protecting Kelly might be even more important than taking down this particular tango. Can he manage both?
Lynsay Sands seems to have enough Argeneau novels that one of them is always on sale (lucky for us) and this week's deal is Immortal Ever After about a woman captured by a psychopath who seems to have fangs and the vampire savior who claims she is his mate. Only $1.99 it's a great deal for a full-length novel from this excellent paranormal author.
Cherry Adair's book Hush from her wonderful Lodestone trilogy is on sale for $1.99 and has two thrill-seeking brothers who experience a kidnapping and a woman who is kidnapped along with them. When Zak and the woman's escape reveal a new ability for him, he needs to figure out how to use it to find his missing brother. Quite a…um…large machete he's wielding on the cover, yes?
That's it for this week. I've got a review of a terrific anthology coming up this afternoon, but I hope you have a great Christmas with lots of amazing books as your present.
Happy reading!!