New and Upcoming Books
Paranormal doyenne N. J. Walters has recently published the first in her new Salvation Pack series, Wolf at the Door, about a paranormal writer who in the process of getting information about werewolves discovers that they are actually…gasp…real. When the werewolf hero realizes that this woman he's supposed to silence is his mate, he also is aware that the head of the rival pack – who is also his father – will do anything to get rid of her.
Any reader who enjoys steamy category romance is familiar with the wonderful writing of Leslie Kelly, so they'll be pleased to hear that she's recently published another wonderful book under Harlequin Blaze's "Unrated" label (mrrrroooowwww), Double Take. When a sex therapist gains way to much media attention, she retreats to an island off the coast of Michigan as a substitute teacher hoping to not even think about sex for a while. That intention is blown out of the water upon meeting former Chicago cop Mike Santori who came to this safe small island to settle down and avoid danger. Falling for a hot teacher who is more than she appears was not part of the plan, but he'll do everything he can – and use every one of her naughty toys – at his disposal to strip her of her defenses.
Kaylea Cross is one of the best military romance writers out there, so I was elated to discover that the most recent book in her outstanding Bagram Ops series is out. Danger Close has Army nurse Lt. Erin Kelly ready for her well-deserved leave back home in Montana, but plans go awry when a strange man unintentionally puts her in the way of the American-born terrorist currently enemy number one. This places her in tremendous danger and, now that his cover has been blown, CIA Operative Wade Sandberg isn't about to leave Erin's safety in anyone else's hands, particularly as the man he once guarded hunts them down.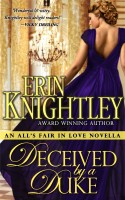 As historical romance fans wait for Erin Knightley's next full-length novel to come out, they will be elated knowing that she's given readers a terrific novella, Deceived by a Duke, as the next installment in her All's Fair in Love series. Published this past Friday, this 97 page morsel of goodness has a responsible duke who takes his dissolute younger brother to Spain with the caveat that if he agrees to live minus their station for a month, his debts will be paid. What no one expected was the English beauty who helps them with the local language, but what will happen when she realizes that her heart which has been captured has been deceived by a duke? At only $.99, there's no mistaking this novella as a great bargain, so grab it now while you wait for The Baron Next Door, her Prelude to a Kiss novel, to be published on June 3rd.
Harlequin is embarking on another glamorous multi-author series, this time centering on a decadent Monte Carlo hotel, The Chatsfield (the name of the series as well as the surname of the billionaire family who owns it). First up is Lucy Monroe with Sheikh's Scandal, about a ruler who is jilted in the hotel, only to find solace in a beautiful chambermaid who he promptly whisks back to his home country when circumstances arise that their night together may result in pregnancy. Published on May 1st, the next sequel will be Playboy's Lesson (debuting on June 1st) by Melanie Milburne and then the gothic sounding Billionaire's Secret by Chantelle Shaw due out in August.
Everyone knows how much I adore M. L. Buchman
, so I'm thrilled that his new spin-off series, Firehawks, debuts this coming Tuesday, May 6th, with Pure Heat. Fans who enjoyed his incredible Night Stalkers series know that our favorite couple in those books have taken the news of their pregnancy and decided to turn civilian, flying helicopters in dangerous fire-fighting situations. In this opening novel, an emotionally shut down forest fire specialist who has lost loved ones in the line of duty is assigned as a co-pilot to a hot former smokejumper. When they discover a terrorist threat in the wilderness, it's hard to determine what's hotter, they're attraction to each other or the fire they are desperate to conquer.
If you love animals, hot men and Jill Shalvis (and who doesn't?) you must adore this contemporary author's Animal Magnetism series, set in a small Western town where hot vets seem to be a speciality. You can chalk up one more citizen who fits this description as her latest book, Then Came You, focuses on a veterinary intern fulfilling her vet school scholarship by serving a year in a clinic in the middle-of-nowhere Idaho, only to come face to face with her hot one night stand at the Reno veterinary conference she attended. The problem? He's her boss. Unfortunately we're going to have to wait until July 1st for this one, but I have a feeling the summer is going to be a little bit hotter! FYI, be sure to enter the Goodreads giveaway before May 9th to see if you can win a copy. 🙂
Lauren Dane's long-awaited Hurley Boys series is driving the anticipation higher with both the cover release for The Best Kind of Trouble, the first book in the series, which will debut on August 26th in print and September 1st in ebook form (it's an annoying Harlequin thing) as well as the pre-order page for the second book, Broken Open, going live despite its November 25th release date. Having met these sexy rock stars who stay close to their small-town Hood River, Oregon roots in Dane's fabulous book Lush, we've been chomping at the bit waiting for all their stories. The Best Kind of Trouble focuses on the town's librarian, a once wild girl in her youth, who has mastered self-control and now has her life going to plan…that is, until Paddy Hurley, the musician with whom she once spent two unbelievable weeks returns to tempt her.
Whether you love them for the amazing writing, Victorian Era Highlanders (who are NOT as tame as their English counterparts) or the loving mess of the Mackenzie family, any installment of Jennifer Ashley's Highland Pleasures series is a must-read. Fans of quality historical romance will be thrilled to note the next book in the series, Rules for a Proper Governess, is available for pre-order, with a release date of October 7, 2014.  This book focuses on one of the McBride men (related to the Mackenzies via the sister who married Lord Cameron), the brilliant barrister Sinclair whose widowed status has led to an amazing career but two hellion children. When a thief manages to tame his wayward offspring, he offers her a job as their governess, but pocket watches aren't the only thing she knows how to steal, and Sinclair begins to realize that his heart is in danger as well.
Contests and Giveaways
RT Book Reviews magazine has a terrific giveaway featuring the first novel of M. L. Buchman's Firehawks series (his spin off from his successful – and amazing – Night Stalkers books, see above description in "Upcoming Books"), Pure Heat, as well as Julie Ann Walker's latest Black Knights Inc. book, Hell for Leather. That's a lot of muscled alpha male, but I know you can handle it, so enter their Rafflecopter giveaway before May 8th for your chance to win!
Susan Mallery has an incredibly successful series with her long-running Fool's Gold collection, and now you can win the fourteenth book, Before We Kiss, in a Goodreads giveaway. With a former pro-football player with terrible luck with woman and the one night stand he runs from when he discovers a room filled with wedding gowns, this is classic Mallery, so readers will enjoy this journey to a happily ever after. Be sure to enter by May 6th for your chance to win!
Kat Latham and Ashley LeMar are doing a wonderful giveaway for the month of May in honor of Memorial Day's focus on our nation's men and women in the military. Entitled 2014 Read, White and Blue, it's goal is to raise money for the Semper Fi Fund, which provides assistance to military personnel (and their families) who have have been injured or are coping with illness. It's a great cause and helping out and promoting the giveaway enters you to win the grand prize, a Kindle, donated ebooks, custom coffee mugs, a cozy blanket and a $20 Starbucks gift card! Enter before May 31st and make your Memorial Day about more than a great cookout with friends and family.
Western romance fans instantly recognize Linda Lael Miller's name, so they'll be pleased to discover that she has a new series, The Brides of Bliss County, debuting at the end of May and the first book, The Marriage Pact, is available as a prize in a Goodreads giveaway for readers who hustle over and enter before May 6th. Considering this has a best friend's little sister, a divorced hero who once saved the heroine from making a bad marriage and heat that cannot be denied, I'll be reading this one whether or not I win!
Fun Stuff
Anyone needing a blast from romance novels past should check out BuzzFeed's hilarious "19 Things Fabio Is Really Thinking on Romance Novel Covers." Readers who lived through the bodice ripper days of the 1980s will recognize more than a few of these covers!!
If you've got a honey bunny who needs a love card, romance enthusiasts need look no further than Meow Kapow shop on Etsy and their hilarious (to the library geeks among us) "checking you out" card. Be sure to look at their other delightfully retro and quirky offerings – there are more than few stocking stuffers and hostess gifts in this great shop!
Great Deals
Pirate fans will want to take a look at Pleasing the Pirate by Sharon Cullen which features a spunky Highland miss determined to save her brother from imprisonment so he can take over the management of their lands. Unfortunately, she has to seek help from a handsome Sassenach buccaner who has little use for her money, but plenty for her body. That her brother is exactly the person the crown has asked him to apprehend is an unexpected bonus, but his obligations prove less and less appealing the more time he spends with this Scottish beauty. Only $.99 for 261 pages on Amazon!
Shifter and romantic suspense fans will want to take note that Wolf Protector by Milly Taiden (part of her Federal Paranormal Unit series) is also currently only $.99. I enjoyed this book tremendously as it stars a psychic heroine who keeps herself tightly under control, particularly around her devastatingly handsome coworker, who she has labeled trouble of the player variety. The hero, a wolf shifter, knows this woman is who he's been waiting for but his patience is reaching its limit as she continues to ignore him. When a gruesome serial killer has them both working together, no one is denying the fiery attraction between them. But does their love come too late? With the next book in the series, Dangerous Protector, just out this past Friday, this is a great opportunity to see if you want to commit yourself to the series (which I think you will!).
Erotic author Jasmine Haynes has the first of her Open Invitation series, Invitation to Seduction, available for free right now on Amazon. With an artist heroine low on confidence, a bachelorette party at an exclusive club and a hero whose fallen for the heroine from afar and will do anything to get her now that he's seen her in person, we've reached "fan yourself" territory. Grab it now as a present to yourself.
We've got to feature at least one awesome book bundle, and this one is a doozy! If you haven't yet picked up Dark and Deadly: Eight Bad Boys of Paranormal Romance, get on it, as it gives you quite a line-up of authors for only $.99! With Jennifer Ashley's Bodyguard (a fabulous novella from her Shifters Unbound series) heading the list, the bundle also features powerhouse writers like Alyssa Day, Felicity Heaton, Erin Kellison, Laurie London, Erin Quinn, Bonnie Vanak and Caris Roane. WOW!
May means the advent of romance authors everywhere raising money for Brenda Novak's Online Auction to benefit Diabetes Research and this amazing book bundle, A Sweet Life Boxed Set, has fourteen contemporary romances from best-selling authors with all proceeds headed straight to that charity. At only $.99 for 1500 pages of great writing, it's not just the research that's benefiting, particularly with authors like Bella Andre, Barbara Freethy, Heather Graham, Susan Mallery, Brenda Novak (the fundraiser herself!), Susan Wiggs, and Debbie Macomber among others. Don't let the "sweet" in the title fool you either – there's a variety of sensuality levels from steamy to sweet between these covers.
Happy reading! 🙂